Europe
The fit4internet association is an active member of the following European networks and coalitions:
The Digital Skills and Jobs Coalition of the European Commission
In 2016, the European Commission launched the EU "Digital Skills and Jobs Coalition" (DSJC).
Its primary objective is to enhance digital literacy in Europe. This is particularly important for the European economic location, for the competitiveness of the European economy as well as the participation in the European society in the digital age.
The Digital Skills and Jobs Coalition is based on a cooperation between the European Commission and the Member States and their companies, social partners, non-profit organisations and education providers. Members of the Coalition take action to boost digital skills at all levels - from high-level ICT specialist knowledge to digital skills crucial for the everyday and work life of all European citizens.
In 2020, the European Commission confirmed fit4internet as the first Austrian member of the Digital Skills and Jobs Coalition.
---
European Commission's Pact for Skills
As a member of the European Commission's Pact for Skills, fit4internet is part of a growing community of private and public organisations across Europe who share the goal of upskilling Europe's workforce. The Pact was officially launched in November 2020 and is the first of the flagship actions under the European Skills Agenda.
It aims at a focused effort towards high-quality training, retraining and qualifications for all people of working age across the European Union.
---
European Year of Skills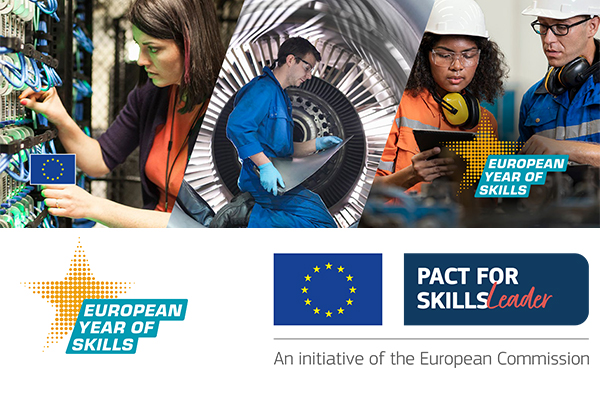 In the European Year of Skills, the European Commission will focus on the skills of Europe's citizens for twelve months starting on 9 May 2023 in order to improve the competitiveness of companies. Digital skills play a central role in this context, and fit4internet contributes to the Year of Skills with various offers - such as the CHECKs and QUIZzes, the fit4internet catalogue or the numerous online learning resources.
In addition, fit4internet supports Austria's digital sustainability in the Year of Skills with the target group-specific initiative "Die Chance 1.000", which offers free certificates and training worth over 100,000 euros. For A-level and apprenticeship graduates, 1,000 Dig-CERT online knowledge tests are provided. In cooperation with companies such as Microsoft, Cisco, bizExaminer, bizConsult and ETC, 250 qualification offers and business certificates will also be raffled off.
---
At the same time, fit4internet makes an important contribution to the formation of the "Austrian Digital Skills and Jobs Coalition".